Tad Talks: Lizzy Hadfield x Tada & Toy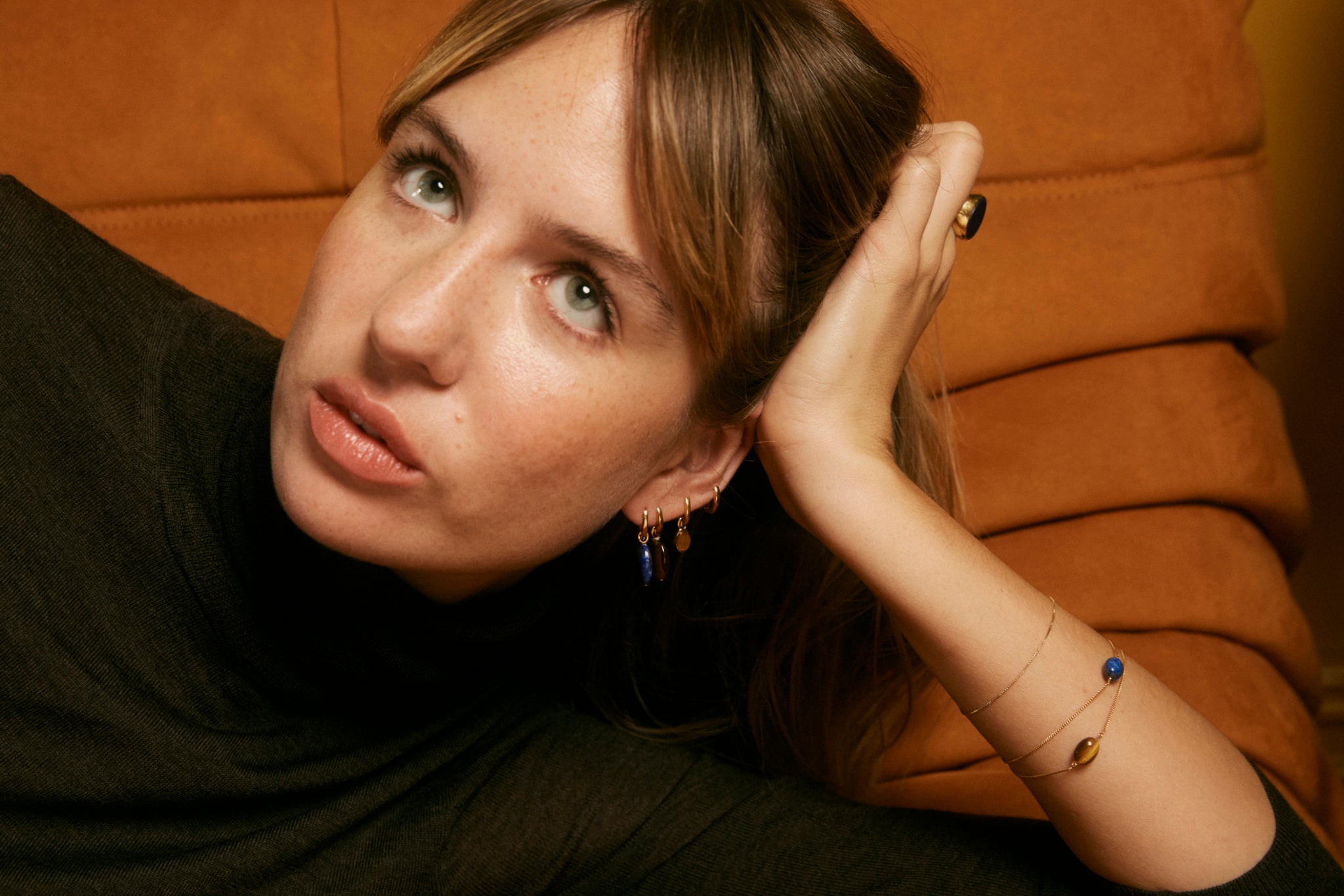 Our latest collection was designed with social media creative, author and podcast host Lizzy Hadfield. Hear what she has to say about it!
What inspired the collection?
My own collection of family pieces was the starting point for this. I have a signet ring from my uncle which I wear all the time, and it's the perfect shape and size. That was our starting point, and from there we explored how we could make this a little different. I am interested in adding more colour into my own personal style, and have been really drawn to Yves Klein blue recently. That, and the tiger's eye, are stones that look great in a silver or gold setting. I also looked a lot at the pieces my friends wear that are always hard to find. The perfect small hoops that 'I got in Soho at a jewellers that isn't there anymore' or the bracelet that 'I got in Greece 5 years ago!' Those great one off pieces that are then so hard to come by again, I wanted to work on making those available (selfishly to myself, if I am honest) and at an accessible price point too.
Which are your favourite pieces?
I love the bead tennis bracelets. It's the perfect pop of colour that you can still wear everyday! We deliberately picked a very thin chain so that it would feel as delicate as possible, and let the unique details on each individual bead really stand out. I think it can be easily styled on its own, or with other chain bracelets you might already have. I have been wearing the tiger's eye and the blue bracelet together too as the colours compliment each other so well, and seem to match with whatever I am wearing too!
Which pieces will be part of your everyday look?
The hoop earrings, I never take mine out. The gold chains, and the large signet ring in both colours!
What was your favourite part of the design process?
Getting the samples! You go through so many stages of looking at a digital rendering of the pieces, and nothing can compare to when you actually physically have them in your hand! It suddenly felt so real in the best possible way. The work that leads up to that point is so rewarding too, from the first time we all sat down together and went through my collection of family pieces as our starting point for inspiration, to how we have tweaked the designs as we go to reflect day to day wear and versatility. There has been so much consideration at every step, and being able to wear it every day is so fulfilling.
Why did you choose to partner with Tada & Toy?
I love the London roots of the brand, and the fact it's run by amazing women. We all just got on so well and laughed so much from the day we met, and that personal synergy has been reflected in every step of this process. It's a joy to work with passionate and hard-working women and support other women in business, with a brand that also has a focus on sustainability in its production.
What are your go-to daily staples?
One big ring, lots of little hoops, and a gold chain or two. I sleep, shower, exercise… live my entire life in all of these!
Who is this collection targeted at?
I think this collection is aimed at people starting their jewellery collection from the basics up. We focused on having a really great foundation, with the hoops and the chains, but then also created pieces that could be incorporated into people's existing collections. It's both minimal and playful in places, and the pieces look great when worn together, but it was really important for us to create a collection we felt could complement items lots of people might already own.
How would you define your personal style?
Masculine, minimal, effortless. I am enjoying wearing a little more colour recently, but for the most part, I stick to a neutral colour palette and an oversized silhouette. When it comes to jewellery, I tend to find pieces I like and wear them day in, and day out. I will sometimes switch my earrings in the evening, and change one ring here and there, but for the most part, I love jewellery that becomes part of my everyday styling.
Did living between London and New York influence the collection?
The street style in each city is so different. I live in East London and the Lower East Side, so I am referencing these two areas specifically - but New Yorkers make a lot more effort with their outfits, whereas Londoners have nailed the effortless outfits. I wanted the collection to span between the two. Something you can wear every day, but also be part of your evening looks (both cities thrive on a day-to-night lifestyle), and be a subtle statement that can adapt to the style of either city. On a more practical level too, one of the pieces we spent the most time on were the small gold hoops. I saw a pair like these in a shop in SoHo that isn't here anymore, and was determined to recreate them!