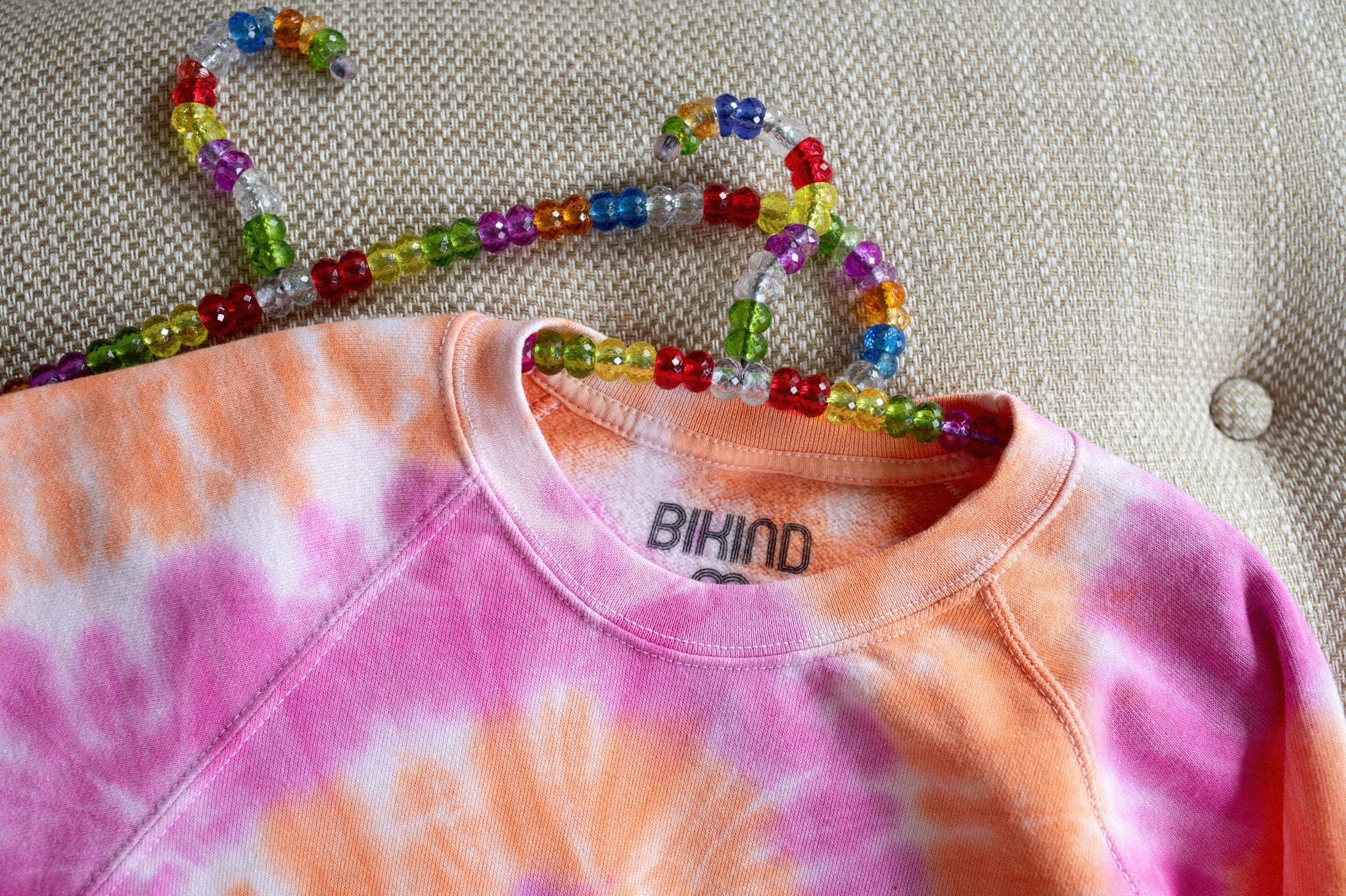 We met with our Notting Hill neighbour and the queen of Tie Dye, to talk all things BIKIND, a brand which adds a touch of summer and a smile to everyday life. Working with artisans around the worldwide, and tie dying clothes herself in her Notting Hill Studio, Victoire creates the ultimate holiday wardrobe and is therefore, of course, a woman we want to know!
BIKIND
Tell us a bit about the inspiration behind BIKIND?
The idea of BIKIND started when travelling and immersing myself into cultures that bring joy to their lives through colours. With tie dye and artisan craftmanship, the aim is to create mindful products that will bring a smile to our customers.
What is your favourite thing about running BIKIND?
Having to wear so many hats when running a business makes it so exciting and interesting. I come from a Buying and Merchandising background, and I actually enjoy diving into the numbers part of the business. But of course, the freedom of creativity to build a brand that feels like me is really the best feeling.
What is your go-to BIKIND piece/ favourite colour combo at the moment?
At the moment I'm not taking off the zipped hoodie in green and yellow. The color has an island vibe to it, and the shape is so versatile I wear it with jeans, leggings and dresses. Oh and the cropped trousers in any color because they are so comfortable, it's hard to wear anything else!
The Tips
We know you love to travel, where is your favourite place?
This really is the hardest question to answer, I have fallen in love with so many places over the years! But I guess it's hard to beat the Mediterranean during Summer, so I would have to say any Greek or Italian island. I'm heading to Ischia near Capri this Summer for the first time, and I'm really looking forward to beautiful sunsets and gelato.
Favourite place to eat in Notting Hill?
I love having breakfast out, and Tin Shed on All Saints Road is my favourite spot. First it's one the most charming streets in Notting Hill, and the place has such a sweet homey feeling. There's the nicest little garden in the back, I can't wait to spend time there when it's finally sunny.
The Jewels
How would you describe your jewellery style?
I love mixing materials and colours. On my ears, neck and wrist, there's always a mix of gold and gemstones, more precious pieces and friendship bracelets. My jewellery style reflects my clothing style, it's all about being playful and comfortable.
Favourite piece from Tada & Toy?
Anything from the Technicolor dream collection! They are so delicate and the colours are all simply stunning. The studs and chains are perfect to mix and match with other pieces and styles.
Head over to BIKIND now to start building your holiday wardrobe!
https://instagram.com/bikind_?...