Tad Talks: Charlotte van Holthe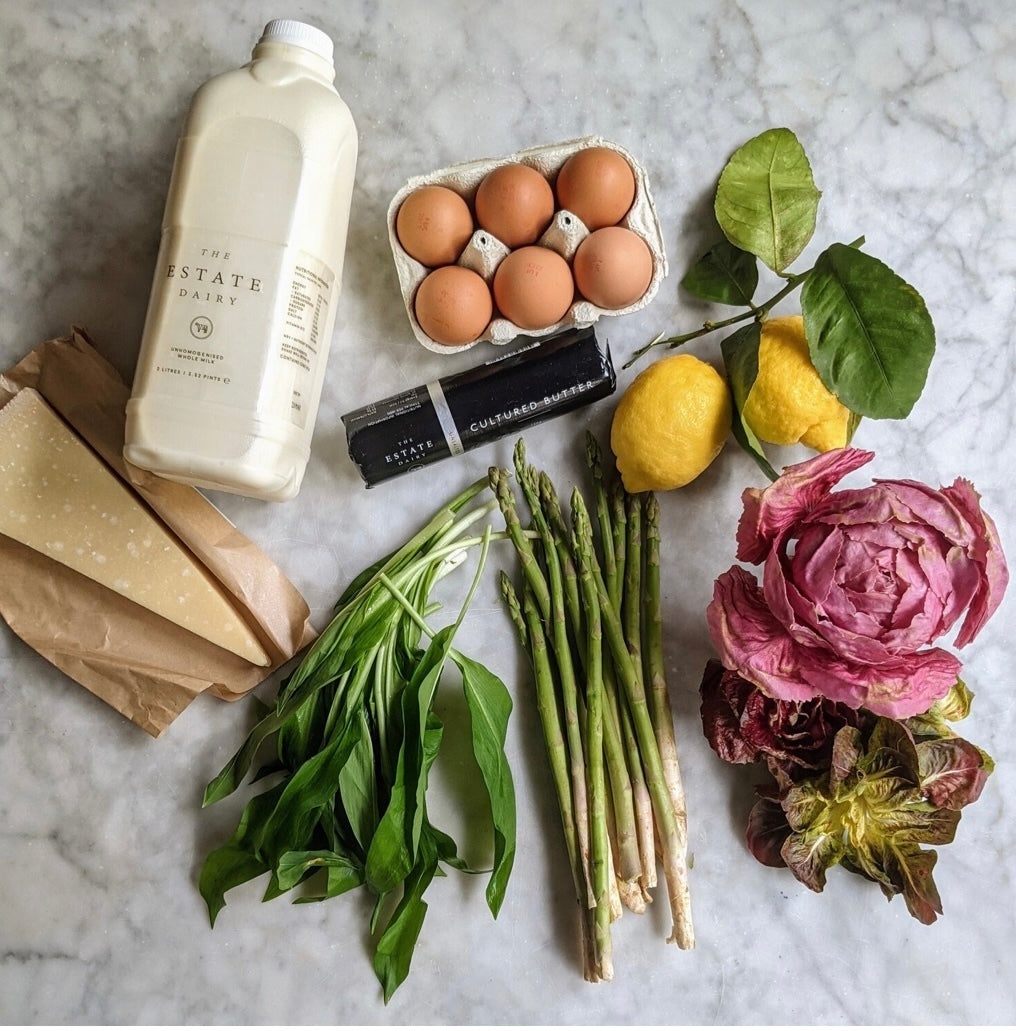 We met with our favourite chef, and sister of co-founder Victoria, Charlotte van Holthe to learn how to make the perfect al fresco tart.
'This Caramelised Shallot & Wild Garlic Tart with Asparagus Salad is the perfect recipe for a picnic or garden dinner. Delicious hot or cold, this tart has lots of wild garlic leaves - which are abundant from Feb through till the end of May. Served simply with a beautiful radicchio, parmesan & asparagus salad.'
Ingredients
Tart
200g plain flour
50g whole grain rye flour
150g cold butter - cubed
60g milk
A pinch of salt and a pinch of crushed fennel seeds
Filling
Large handful wild garlic leaves - washed then dried between kitchen cloths
4 shallots - sliced
Knob of butter
3 eggs
200g creme fraiche
200g milk
Pinch salt
Large handful of finely grated parmesan
1 lemon, zest
ChervilI
Radicchio & Asparagus Salad
Couple of handfuls mixed radicchio and grumolo leaves
4 spears of asparagus per person, woody end chopped off
1 lemon, juice
Extra virgin olive oil
Maldon salt
Parmesan
Method!
Tart Case
In a stand mixer add the flour, salt and fennel seeds and stir to combine
Add the COLD butter, and using a paddle mixer, mix until breadcrumbs form
With paddle on, add milk and JUST bring it together - use hands to press into a rough ball. Do not knead it! Press it gently together on your work surface into a flattened ball
Wrap in plastic and put in fridge for an hour so the dough can relax
Take out of the fridge, bring up to room temp for 15 mins, then roll in between parchment if needed. Roll thin so it can fit into a 25cm non-stick form
Flip, press and peel into tin - pressing into corners. Keep in fridge for 10 mins - do not get rid of hanging bits of pastry (you will shave this off later)
Blind bake using baking beans (with a sheet of baking parchment in-between) at 180c until golden brown (20 mins). Take out beans and parchment and poke a few holes with fork
Place back into the oven for 15 mins or so, until it looks lightly golden brown. Cool, then microplane the edges so they are nice and flat.
Tart Filling
Slice your shallots, and slowly fry them in a knob of butter and a large pinch of salt until golden and caramelised. Stir often and add a splash of white wine if you have at the start
Chop your wild garlic leaves
Whisk the eggs with the creme fraiche, milk, salt, parmesan and lemon
Place the wild garlic down first in your tart base, followed by the caramelised shallots. Pour in half your milk mix, and scatter over some chervil and more parmesan if you like.
Place on a tray in the oven, and pour the rest of your milk mix into the tart until you reach the height of the pastry (We find it easier to do this for any wobbly hands!)
Bake at 170c until only a slight wobble remains - around 20 minutes (but this will depend on your oven)
Leave to cool completely before slicing
Asparagus Radicchio Salad
Take half the spears of asparagus and boil gently for 2-3 mins. Drain then blanch in ice water. Slice into 5cm lengths. Melt some butter and drizzle over.
Take the other half of asparagus and shave lengthways.
Toss all together with some lemon, oil, maldon salt and shavings of parmesan.
Favourite Restaurants
Garden Museum Cafe - Lambeth
Canton Arms - Stockwell
Italo Delicatessen - Vauxhall
Stoney Street by 26 Grains - off Borough Market
We loved following this recipe and will be definitely making this tart all summer long! Be sure to head to Stoney Street, where Charlotte is head chef, to try her food for yourself!
https://instagram.com/cvanholt...
https://instagram.com/stoneyst...