Tad Talks: Claire Vero Founder of Aurelia probiotic skincare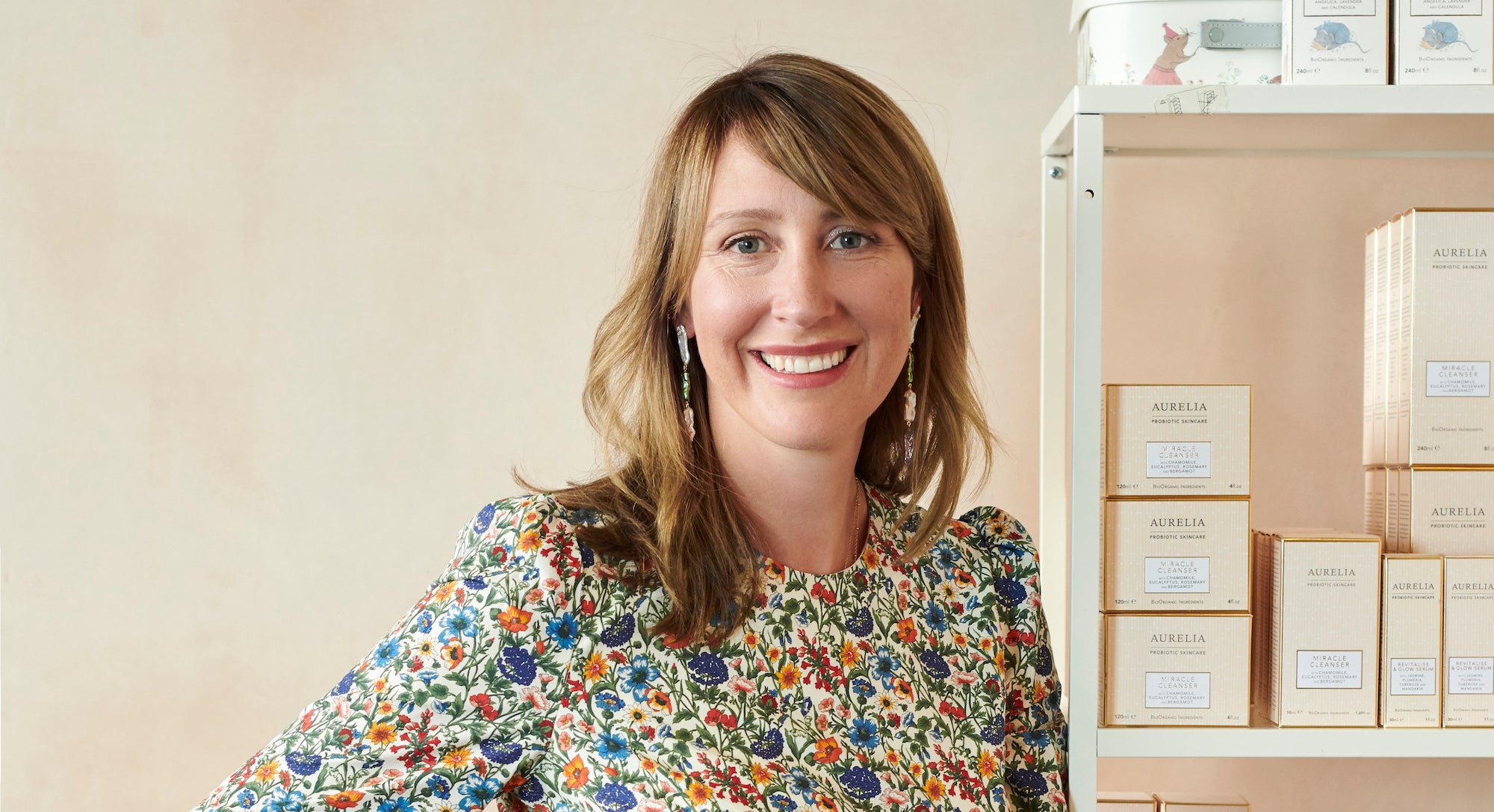 We met with Claire Vero, founder of skincare wonder brand Aurelia to talk jewellery, career advice and the recipe for a good night's sleep. As an inspirational entrepreneur and skincare guru with glowing skin Claire is a woman we want to know.
The Daily
First thing you do in the morning?
I have cuddles with my two boys Henry and Atticus and when I have time, I like to enjoy a full Aurelia Skincare routine. It helps me start the day feeling confident, grounded and ready for anything!
You recently launched a sleep campaign, what would you recommend for a good night's sleep?
Our new sleep related products are amazing for helping you to wind down and relax at bedtime. The Perfect Sleep Pillow Mist is great for establishing a sleepy atmosphere in your bedroom. I love the blend of Neroli, Lavender, Geranium & Chamomile which instantly sends me to sleep.
The Work
What was your inspiration for setting up Aurelia?
I joined pharmaceutical giant GlaxoSmithKline when I left university and spent nearly 10 years there. Moving around teams led me to dermatology where I fell in love with skincare and the effects that good skin health has on confidence and self-esteem. I started researching probiotics and the role they could play in skincare. It was here that the idea for launching Aurelia Probiotic Skincare was born, and I set about creating a small range of products using unique probiotic ingredients, but that also ticked every box I had in mind. This included a sense of luxury, beautiful blends and textures, a very strict policy on ingredients, ethical sourcing and lastly a dash of Britishness.
What's the best piece of advice that you have been given?
The only one who can drive your career forward is yourself.
Who is Aurelia Probiotic Skincare for?
The whole range has been designed to be used and layered on all skin types and ages. I wanted the products to be used universally and offer gentle, nourishing treatment for everyone. I'm a firm believer that the probiotic technology used in the products will benefit all skin concerns by helping to protect, restore and balance the skin's natural immune response.
What's next for you and for Aurelia?
I have been working hard on creating some amazing new products which I'm so excited for everyone to see. I'm about to embark on a press trip to New York to reveal our latest launches which will be a bit of a whistle-stop trip but one I'm looking forward to. I'm also renovating my house at the moment, and as interior design is a favourite hobby of mine I'm loving every minute, although will be delighted once it's all over as I can't wait to have every room finished.
The Jewels
What is your favourite piece of Tada & Toy?
The Wild Diamond Necklace from the fine collection is absolutely gorgeous. I love the simplicity of the design paired with the quality of the diamonds.
What is your most treasured piece of jewellery?
My engagement ring has to be my most treasured piece. It was made from a diamond ring that was passed down my husband's family and shared between my sister-in-law and me. The diamonds are really old, hand cut and the ring was made with a little peridot stone on the inside which is my birthstone, said to be lucky. I also had a beautiful gold pendant made with my son's initial 'H' on it from my grandmother's wedding ring. I wear it every day and it means a lot to me.
If you could access anyone's jewellery collection – dead or alive who would it be?
It's got to be The Queen. Her jewellery is simply exquisite
The Tips
Favourite Restaurant?
The Ox Barn at Thyme in the Cotswolds is amazing. Their 'farm to fork' ethos means that the menu changes all the time and the ingredients are wonderfully fresh and as local as you could ask for.
Can't live without beauty product?
The Miracle Cleanser from Aurelia Probiotic Skincare. It's my absolute favourite product and leaves my skin feeling amazing every time I use it.
Never leave the house without?
My phone!
We loved speaking with Claire and hearing her thoughts on how to build a successful company and the power of probiotics. Head over to Aurelia's website to try their amazing products for yourself. Aurelia are giving 20% off their products to Tada & Toy customers just use code 'ALGTT20' - valid till 30th September https://www.aureliaskincare.com/?utm_source=tadaandtoy.com&utm_medium=referral&utm_campaign=tadasocial
@aureliaskincare