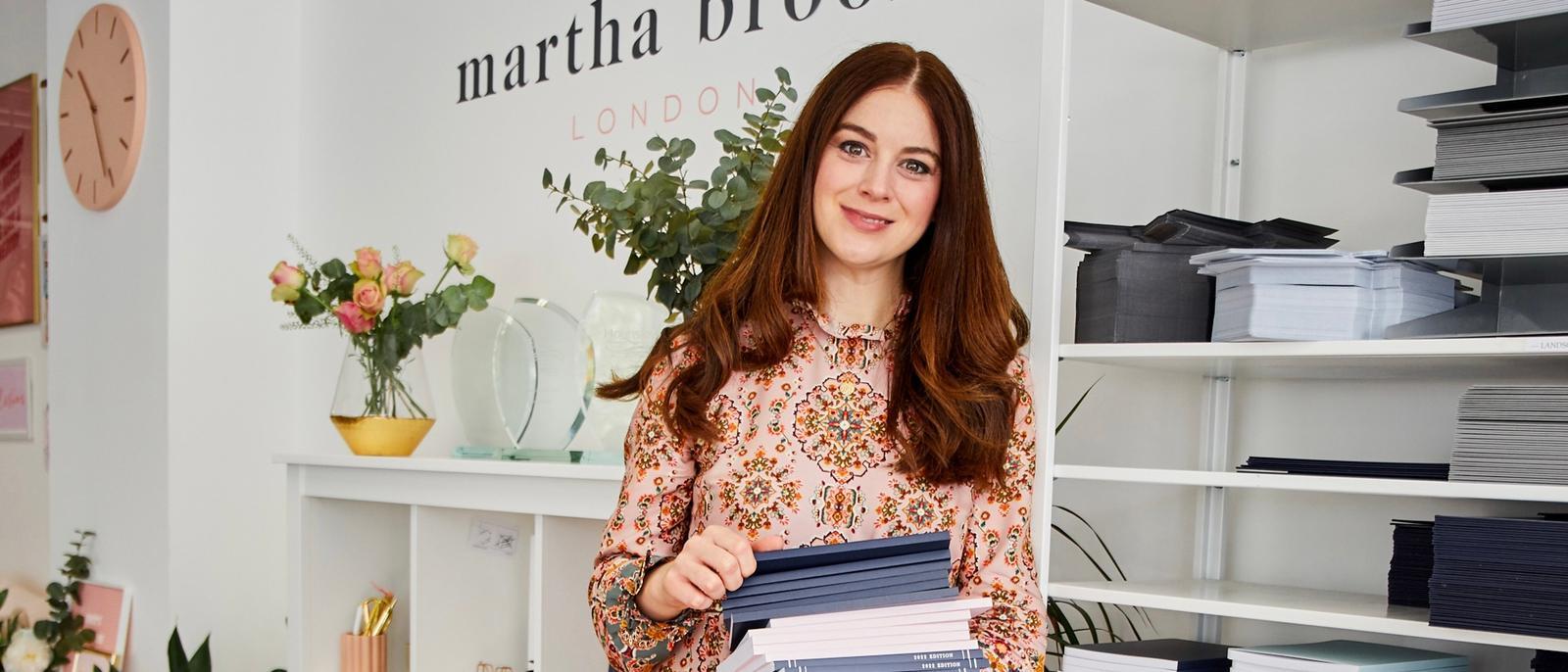 We met with self-confessed stationery addict Martha Keith to discuss the inspiration behind her brand, how best to stay organised in this WFH world and of course, jewels. Since launching in 2013, Martha Brook has become a cult brand, offering a range of stationery must-haves. As someone who took the leap and left her corporate role to follow her passion for her brand, Martha is someone we want to know!
The Daily
What does a day in the life of Martha Keith look like?
I'm an early riser. I always feel most energetic and inspired first thing, which might seem crazy to many. So, I'm always up early and like to plan out my day and do some exercise before getting my daughter up. My workday always starts with a team meeting at 9am, which is a brilliant chance to check in with how everyone is. My days then look very different depending on what we are up to – it could be anything from working on our next product range, to pulling together a marketing campaign. It is always varied and creative, which I love.
The Work
What was the inspiration behind your brand?
Our brand name comes from my first name, Martha, combined with 'Brook' from Brook Green, which is where my husband and I were living when I had the idea for the business. It deliberately sounds personal because we are trying to build a more personal, relatable stationery brand. A brand that inspires people to share their own stories and truly helps them to be the best version of themselves.
What is your favourite thing about owning a business?
I love that every day I am doing something I absolutely adore that makes a real difference. My favourite thing is the feedback we get from our customers who say how our products have changed their life or made a loved one cry. That is the best feeling in the world to know that a business I started in my bedroom now inspires so many people.
What has been your biggest career highlight so far?
Back in 2020 we decided to crowdfund to raise money for the next growth phase of Martha Brook. We turned to our community with no idea how they would respond and were blown away when we reached our ambitious target in just over 24 hours. For so many of our customers and followers to invest in the brand that I started meant so much and more than anything else we have achieved.
How do you switch off from work?
I have a four-year old daughter who was conceived via IVF and is the most special thing in my life. Anyone with a pre-schooler will tell you it's a great tonic as it's pretty much impossible to work when she is around! Other than that, I took up a new extremely random hobby in January of ice skating. My weekly lessons are my favourite time of the week. There's nothing like gliding around a rink to free your mind of any troubles!
The Advice!
Favourite business (or non-business) podcast / book?
I've got massively back into reading this year. I set myself a reading challenge on Goodreads and am very much enjoying tracking what I have read (geeky I know!). I'm currently reading The Seven Husbands of Evelyn Hugo by Taylor Jenkins Read, which I am loving. If you want to walk through the golden years of Hollywood with a story mixed with romance and mystery, this is the book for you.
What is the best business advice you've been given?
"Leap and the net will appear." It's one of my favourite quotes. One of the things I have learnt in business is that you often need to do things before you feel ready to do them. That feels uncomfortable, but it's the only way to learn and grow. I am always reminding myself of this when I have those 'oh heck' moments!
What is one Martha Brook product you can't live without?
I would have to say our Life Planners. They have been a total game changer for me. On a day-to-day basis they help with productivity and self-kindness, and the regular chances to pause and reflect really help organise my thoughts and feel clearer about what I am doing in life! I would highly recommend them to everyone. As well as the annual and mid-year versions, we also have undated refills so you can start using them at any time of year.
What is one Martha Brook product that everyone should have on their work desk?
We recently launched our Vegan Leather Refillable Notepads, which are not just beautiful but are SO handy for jotting down ideas. You can also refill them when you run out of paper so there are sustainable too. I love mine and use it every day!
What advice would you give someone wanting to stay organised and focused while working from home?
I'd say to really think about your morning routine as it sets the tone for the rest of your day. Don't just wake up and straight away pick up your phone! I know it's so easy to do and 80% of us are guilty of it. But looking at your phone first thing affects the dopamine levels in your brain, which primes your brain for a day of distraction and affects your ability to prioritise tasks. Instead, have some water, move your body, and set your priorities for the day. Try it for a week and see what a difference it makes!
The Jewels
What is your jewellery style?
Day to day it's pretty simple. I have a necklace with my daughter's name on I wear every day. But I do love a chunky statement necklace or sparkling pair of earrings for a special occasion.
Who's jewellery box would you love to raid?
Ooooh tough one. Ok random, but I'd say Catherine, the Duchess of Cambridge. I've had people say I remind them of her before, which I think is just because of my hair! But we got married the same year and are a similar age, so I've always had an eye on what she's worn, and she's had some beautiful jewellery over the years. Plus, what girl wouldn't want to try on a tiara or two!
Favourite piece from Tada & Toy?
I love the Shooting Star Studs. I am a big fan of celestial vibes and the simplicity of these studs climbing up the ear is just perfection.
We loved chatting to Martha and hearing the inspiration behind, and the success of, her stationery brand. To be in the chance of winning 2 x Martha Brook's best selling vegan leather stationery bundles and 2 pairs of Tada & Toy's Lazy girl hoops, subscribe to our newsletter here