Travels to: Jaipur, India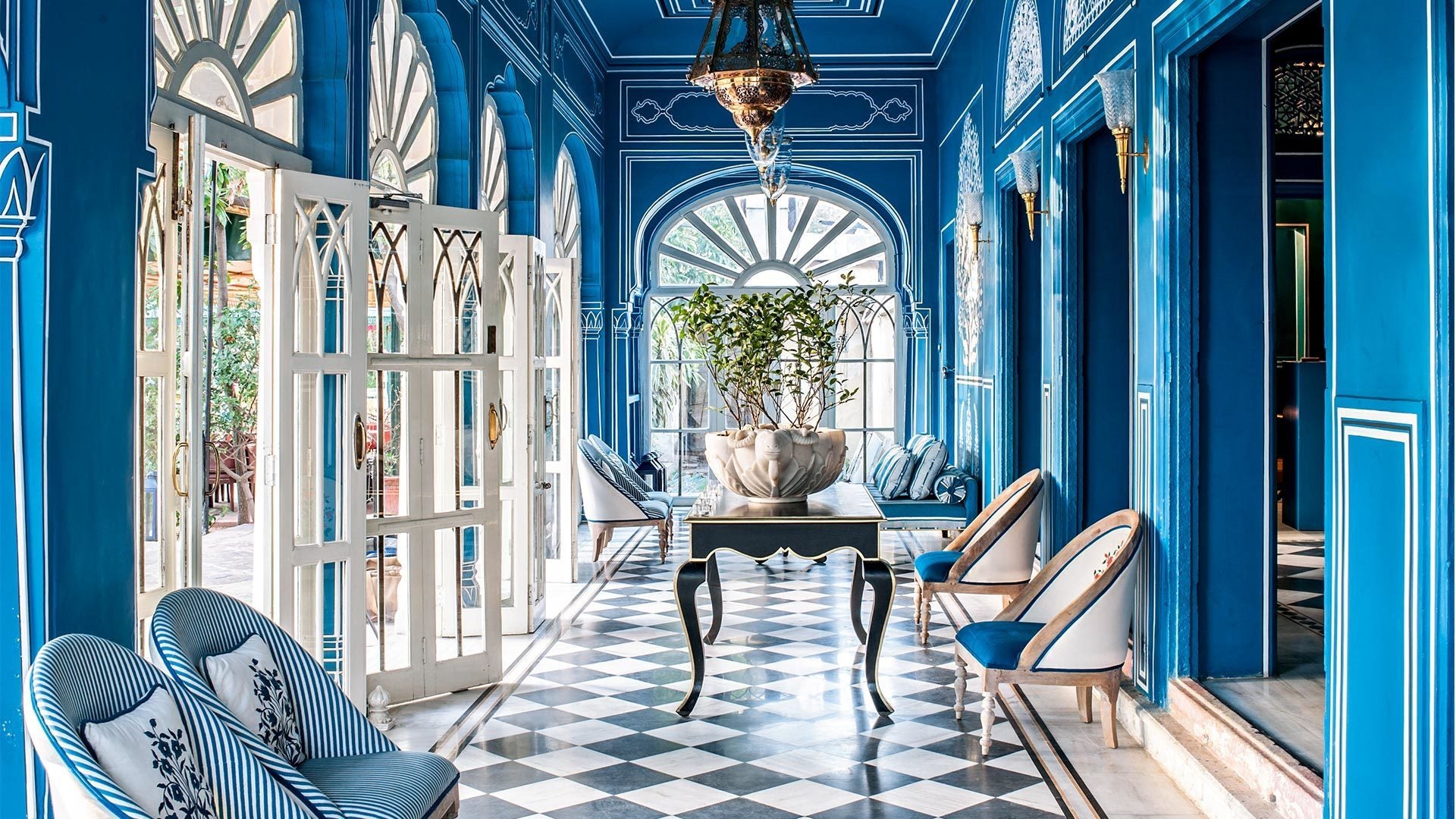 This rose tinted, sun kissed city has been a home away from home for Tada & Toy over the last 5 years. All of our jewellery designs are lovingly made in hand picked workshops within the city. Over time we have explored nearly every corner of this peachy paradise so thought sharing our insider tips to Jaipur would be a fitting way to launch our Travels To series of blog posts. Enjoy the Indian magic and book a flight today.
Eat
Peshawri
Sister restaurant of the infamous Bukhara in Delhi. Eat with your hands the real Indian way. Dhall and Naan bread so buttery and delicious you won't believe your eyes. (Bani Park)
Khanas
Clean street food, perfect for trying out every weird and wonderful Rajasthani dish. The Chole Bhature is a team favourite. (branches all over Jaipur)
LMB
Nestled within the old city walls, the perfect pit stop between sight seeing. Try every type of Lassi and Indian sweet you can imagine for a pick me up or grab a bite at the back restaurant. (Johari Bazaar)
Anokhi cafe
When you need a respite from the Indian flavour overload Anokhi cafe is your best friend. Fresh salads, French press coffee and incredible carrot cake. (C Scheme)
Jaipur Modern
Fresh juices and a delicious healthy mix of asian flavours and European classics in a peaceful oasis, in the centre of town. (C Scheme)
Steam at the Rambagh palace
A restaurant on a steam train in the Rambagh palace hotel. They have extremely good, thin crust pizza, need we say more? (Rambagh)
Meraaki Kitchen
Experimental Indian food, think test tube and unusual flavour pairings. (Civil Lines)
Bar Palladio at Niran Niwas hotel
The best, freshest Italian food in town. Perfectly cooked al dente pasta and fresh buffalo mozzarella. (Rambagh)
Cafe Palladio
Beautiful spot for breakfast or lunch. Sit in the perfectly painted mural walls or in the garden. A Lebanese/Italian mix for when you've got a hummus craving, and great crockery in the shop at the back of the restaurant. (Rambagh)
Shikaar Bagh
A new Indian restaurant which offers dark wooden interiors and old tuk tuks to sit in and enjoy the Rajasthani classics. (Rambagh)
Drink
Bar Palladio
The most Instagrammed interior in town, this cobalt blue bar is where everyone in the know meets for candle lit cocktails and a chilled glass of Italian wine. (Rambagh)
Baradi
Located within the iconic walls on the City Palace this is the ultimate insiders place. Expect late night parties during festival times with music that goes on until the early hours, the rest of the year it remains the place to take in Jaipur's social scene. (City Palace)
Sujan Rajmahal Palace
An eye-wateringly beautiful hotel which is the perfect place to come for a drink and experience Indian hospitality and luxury at it's finest. Sit by the pool for an icy gin and tonic or head to the blue polo bar for one of their signature delicious cocktails. (C Scheme)
Rambagh Palace
The original classic, The Rambagh Palace remains at the top of it's game for old school Indian glamour. Grab a drink at the bar and walk around the incredible palace grounds to get a taste of Mughal India. (Rambagh)
Stay
Villa 243
This newly opened guest house ticks all our boxes. Rooftop views over the city and peaceful rooms which are a fusion between the Mediterranean and modern Indian. Run by the affable Abhishek, you will never be better taken care of. ($, Shyam Nagar)
Narain Niwas Hotel
Staying here is a good idea, right in the centre of town and with the best bars and shops within your hotel grounds. Find respite from the Indian madness at the marble swimming pool on a lush green lawn at the back of the hotel. Rooms are traditionally decorated but not over the top. ($$, Rambagh)
Sujan Rajmahal Palace
After a recent refurbishment this hotel now sits proudly as the crown jewel of Jaipur's many luxury hotels. Interior designer Adil Ahmad has created a thing of great beauty in this palace with each room proving more beautiful than the next. With only 14 suites and rooms the hotel is never busy and always feels yours. The ultimate delight for the senses, we would. ($$$, C-Scheme)
Shop
Johwri Bazaar
The market within the old pink city walls- pick up jewellery, saris and trinkets.
Hot Pink
A beautiful shop full of clothes and jewellery from the best contemporary Indian designers. A great selection of men's and women's clothes, homeware and gifts for kids. You will want everything. (Narain Niwas Hotel)
Nirwan Niwas Courtyard
Just before the entrance to the Narain Niwas hotel is a courtyard full of the best shops Jaipur has to offer. From antiques, to homeware and clothing this place has it all. A great way to spend a few hours out of the sun. (Narain Niwas Hotel)
The Gem Palace
The mac daddy of the many Jaipur jewellery shops, expensive but worth every penny for the craftsmanship and quality. The oldest jeweller in the city, supplying gems to Indian royalty since 1852. (MI Road)
Anokhi
Block printing paradise. All the colours, patterns and shapes you would want to take home with you in wash bag, table cloth and clothing form. (Next to the Anokhi cafe, C Scheme)
Jaipur Modern
A shop that curates the very best of India in a pared back and minimal way. Perfect for presents that will work as well back home as they do in India. (C Scheme)
Para Para
A new cool addition, with a fresh modern take on Indian classic clothes. (MI Road)
See
The Amber Fort
Located just outside the city, visiting The Amber Fort is a must when in Jaipur. Located high on a hill with views over looking the Aravelli Hills this incredible fort is a masterpiece of red sandstone and marble fort. Wander up the cobbled paths and spend the day admiring this opulent palace. (Amer)
Hawa Mahal & City Palace
The two biggest attractions in Jaipur don't disappoint. Steeped in history and feats of Indian architecture these palaces are iconic in their scope and shapes. The palace of the winds, modelled on the honeycomb of a bee hive was built to allow royal ladies to observe everyday life without being seen. The City Palace remains home to the Maharaja of Jaipur.
Anokhi Museem of Block Printing
An ancient haveli in the town of Amer. Wander through the haveli and see how the historic process of block printing works through demonstrations and talks. (Amer)
Dera Amer
A rescue elephant sanctuary about 40 mins from the city centre. Meet the elephants which have been taken into care, away from labour and go for a walk with them. A haven on wilderness just outside the city where you can have a delicious lunch in a Rajasthani tent. (Amer)